The Benefits of Texting from ResWare®
MessageLeap is fully integrated with the title closing software, ResWare®. What are some of the benefits of ResWare-integrated texting for ResWare® users?
Communicate the Way Your Clients Do
Tired of playing phone tag and waiting days for email responses from buyers when trying to get a closing completed before the end of the month? Due to the increasing prevalence of robocalls and spam email, Americans are only answering 18% of calls from unfamiliar numbers[1] and important emails are often missed among the deluge of spam. Texting allows quick resolution to time-sensitive issues, such as urgent documentation requests and eleventh-hour schedule changes. Many escrow officers are already utilizing text messaging to contact clients. But if texting is not enabled for the company's business line, employees are forced to do so from their personal phones, which presents security risks, or to use a third-party app, which sends texts from unfamiliar numbers. In contrast, Messageleap's seamless and secure email-to-text and text-to-email communication allows closers to send texts directly from their business email, which appears on their phone as a text from your business number. And for ResWare® users, the process is even simpler.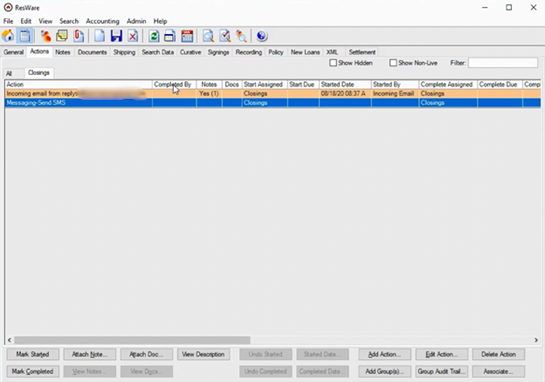 Our ResWare® Integration
Texts may be sent from within ResWare just like any other email, utilizing email templates and customized action groups. Reply texts are then received directly within ResWare®. For ResWare® users, this eliminates the need to switch to an external email platform, external app, or personal device – texts may be received and sent from directly within the file the escrow officer is working on. ResWare® integration makes this solution convenient for escrow officer and client alike, and it keeps all communications in one central, secure location.
Ready to integrate?
---
[1] Business Wire, "US Spam Calls Grew 108% in 2019 as Anti-Robocall Bill Moves to Senate for Approval," https://www.businesswire.com/news/home/20191213005058/en/Spam-Calls-Grew-108-2019-Anti-Robocall-Bill#:~:text=Unwanted%20robocall%20stats%20and%20spam,at%20the%20end%20of%202018)